Practising pilates on a regular basis can bring you a range of health benefits:
improves postural problems
provides relief from aches and pains
improves balance, co-ordination, stability and muscle strength
rebalances muscles around the joints
balances strength with flexibility for injury prevention
As Joseph Pilates said, "In 10 sessions, you feel better, 20 sessions you look better, 30 sessions you have a completely new body."
Why come to a specialist studio? We offer a full range of individual coaching as well as a full range of small group pilates classes. We get to know you and we create a programme to suit your level of fitness and to cater for any injuries or limitations in your body.

Don't know which class to choose?
PILATES - working on the mat with small props - great for breathing, flexibility, body awareness, connection with your core, control, destress. Maximum 8 per class. Choose from
Pilates (on the mat)
Swiss Ball (with large ball also suitable for pre and post natal)
Latino Dance & Pilates - short dance choreographies plus a focus on legs and bums, with cardio element, all to music
Yogalates & Stretch - mix of yoga/pilates and dance based stretching
Call us: 0498 519668

or: 0494 180855 (from 16 November to 9 December 2018)
Email us: studio@bepilates.be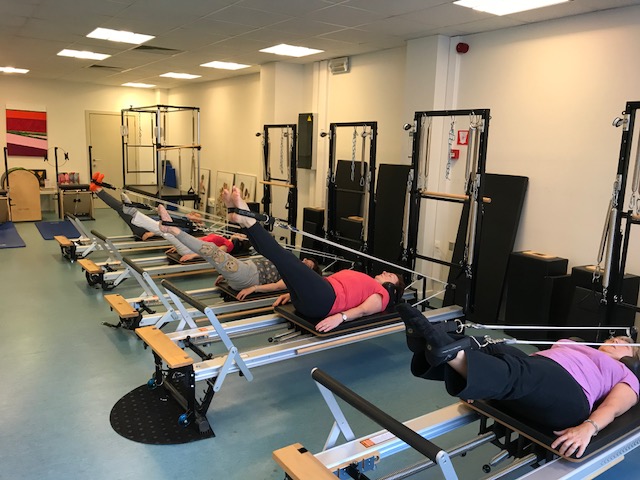 PILATES REFORMER - building on pilates basic principles, the reformer workout offers resistance to strengthen your core and back, maintain muscle and bone health and build long, slim and strong arm and leg muscles. Maximum 5 per class. Never boring - that's guaranteed!!! Choose from
Reformer & Mat Combo - class mixing 50% pilates on the mat and 50% on the reformer
Reformer & Tower - class mixing reformer and cadillac tower
Reformer - class 100% reformer
The only way to discover these benefits is to try for yourself.
Please note that if you have specific injuries or no pilates experience, we will ask you to take a private class before joining a reformer group. If you are totally new to pilates check out our 'Get Started' Package.